El Segundo Wiseburn Unified School District Aquatics Center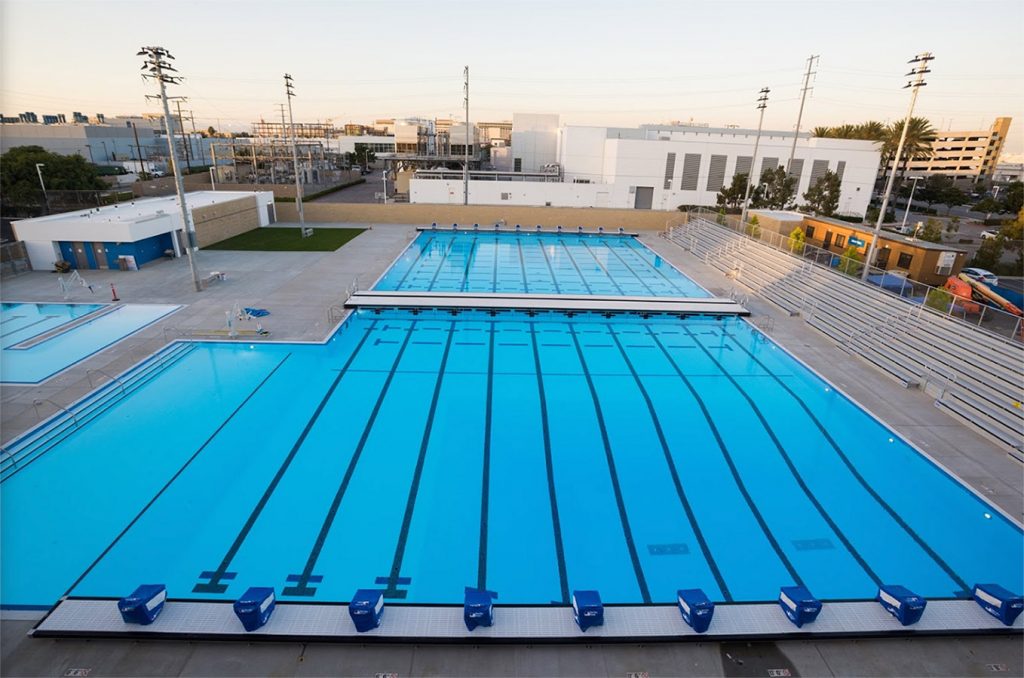 The directions on the embedded map are correct. The Google satellite map photo of the Wiseman Aquatics Center was taken during its construction from two years ago. Please click on the blue Directions link in the upper left-hand corner of the map for point-to-point directions.
Santa Monica Swim Center: Santa Monica College
On 17th Street turn right to enter the parking structures. Members with valid parking permits can park in either structure A or C. A parking permit is required! BRING ID, get a permit at the pool office.
Burns Recreation Center: Loyola Marymount University
Enter LMU from Lincoln Blvd. between Manchester & Jefferson. From the north, exit 405 Fwy at Jefferson Blvd.- turn right. At Lincoln Blvd.-turn left. Go uphill approx 1/3 mile to LMU Drive, turn left. Follow the road uphill to the top (you will go through a few stops signs for the parking decks). Turn right at the last stop sign. Come around the curve to another stop sign. Merge right. The Burns/Gersten Rec building will be on your left. Take an immediate left turn into the parking lot. If the parking lot is full, there is a lot further down the road on your right. Walkthrough the atrium to the back of the Rec Center, the pool will be on the left past the tennis courts. From the 405 Fwy south, exit at Howard Hughes Parkway, turn left on Sepulveda, right on Manchester, right on Lincoln, and right on LMU Drive. Follow directions from above once on LMU Drive.
Culver City Municipal Plunge
Exit the 10 Fwy at Overland Ave. & head south. Drive approx. 3 miles to Culver Blvd. Turn right & pkg lot is immediately on left. Pool entrance faces playfield next to pkg lot. OR – From 405 SOUTH exit Culver Blvd & turn left at bottom of offramp. Go approx 1/4 mi to Culver Blvd.-turn left. Go approx 3 miles Overland Ave. Turn right into pkg lot BEFORE the corner of Culver & Overland. Pool entrance faces playfield next to pkg lot.
Redondo Union High School Pool
Access to Campus: Please keep in mind that our campus will not be as open as it used to be in the past. Parking will only be permitted in the lot off of Vincent and Redondo and entry to the pool deck will only take place from the scoreboard end of the pool. All screening must take place in the parking lot prior to entrance onto campus. We will do our best to get you in and onto the pool deck with enough time to conduct your workout. Prompt arrival and departure are greatly appreciated.